We are an approved 203k Contractor
If you're looking for a qualified and approved 203k contractor in the Chicago area experienced in remodeling and the 203k loan process, then you came to the right website. We are experts in the FHA 203(k) HUD Renovation and Remodeling Program. This program is HUD's primary program for the rehabilitation and repair of single family properties. Our attention to detail and commitment to completion is not often found in our industry. There are very few General Contractors who have done as many 203k remodeling projects over the past 3 years as 203K Remodeling has completed. We take great pride in listening to your ideas, incorporating them into the project, and customizing it just the way you want while continuing to keep your overall budget in mind. We even bring in a professional cleaning service to put on the finishing touches. If you are thinking about using this program and need more information, please review the information at the links below and then feel free to contact us to get started. For detailed information on qualifying for a 203k loan, it may be beneficial to visit the FHA website or our 203k FAQs.

Not sure what a home remodel will cost?
Calculate approximate cost of your remodeling project.
Calculate Your Project
What can our Remodeling Team and a 203k Loan Do for the Homeowner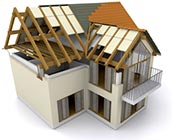 Helping homeowners purchase properties in need of repairs
When a home buyer wants to purchase a property that is in need of repairs or updates, the home buyer usually must first obtain financing to purchase the home and then additional financing to complete the repairs. They must then obtain a permanent mortgage after the repair work has been completed.
Throughout the Chicago area, there are a large number of homes being offered through foreclosure or short sales which are at a substantial savings to those that are in move-in condition. There are also homes in well-established neighborhoods that are being competitively sold due to the fact that many of them are in need of some renovation. All of these houses, whether from foreclosure or neglect, can benefit from the 203k loan program.

Top Features of all 203k Loans
You are only required to put down 3.5% and this can be a gift.

The qualifications are more flexible which may allow buyers with less than perfect credit to purchase a home.

You are only obtaining one loan for both the purchase and repairs of the property.

You can either use the loan for a purchase of a new home or the refinance of your existing home.

FHA loans are assumable with no prepayment penalties.

Allows you the ability to renovate the house to your likings rather than "live" with what somebody else decorated.

Allows the home buyer to have "instant equity" in their new home since that they are buying a dilapidated property of greater value.

The FHA 203(k) loans can be used for a large variety of repairs.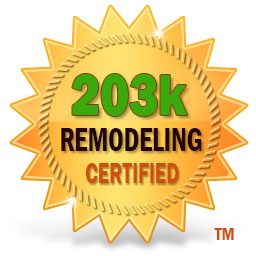 203K Loan Benefits
Especially in larger cities like Chicago, 203k loans benefits include:
Refinance Your Existing Home - You can refinance a property with the FHA 203k loan as well.

Fixed Rate Financing - You still get a low fixed rate (usually slightly higher than a regular FHA loan).

Low Down Payment - You are only required to put down 3.5% and this can be a gift

Variety of Buildings - The loan is available for 1-4 unit buildings.

Other Options - You can get an FHA purchase rehab loan on a mixed use property and condos.

The Full Package - Your FHA loan includes the money to buy your home and complete repairs/improvements in one loan
Top oversights of 203k Loans
Unfortunately, most prospective buyers are not aware of the availability of the FHA 203k program and its ability to allow the renovation costs to be financed in the home purchase loan. Have you ever...
Seen a house in a neighborhood that you love but you did't think you could afford it because you didn't have money for the repairs?

Walked away from a home in a great location because you did't know it was possible to finance the needed repairs or improvements?

Wanted to purchase an older home and increase its energy efficiency in order to lower your cost of ownership?

Wanted to refinance your existing home in order to update your existing home or build an addition to your existing home?

To qualify for an FHA 203k loan the home buyer must:
Purchase a property that is eligible for the program.

The property must need at least $5,000 in rehabilitation repairs.

The home buyer must earn enough income to make the monthly payments.

The homeowner must apply for the loan through an approved FHA lender.
For existing homes, you can still use a FHA 203k loan to refinance your principal residence:
Homeowner can refinance their existing mortgage and wrap the renovation funds into the refinanced mortgage.

Homeowner can borrow up to 97.75% of the after renovation value of the property.

All closing costs can be included into the new loan.

Qualify with a minimum credit score of 640.