Complete end-to-end kitchen design and kitchen remodeling
Our kitchen designers will guide you through the entire kitchen planning and design process. From cabinetry to flooring, we'll explain the pluses and minuses of each choice. From aesthetics, price, durability, ease of maintenance, every single choice requires careful consideration to ensure all of your needs and wants are met.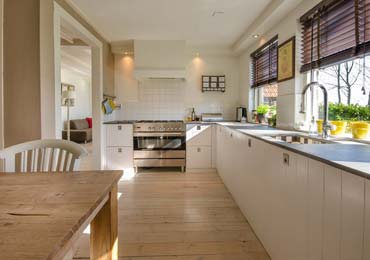 When it's time for your Chicago Kitchen to get remodeled or redesigned, we'll walk you through the latest styles, materials, and trends. However, your personal kitchen preferences are what count the most. Your unique needs and tastes will come together in a custom kitchen design that you will enjoy for years to come. With dozens of kitchens remodeled in Chicago and surrounding suburbs, we'll customize the kitchen that's right for you, your vision, and your budget. We specialize in redesigning, renovating, and completely transforming kitchens within the Chicago area. From small sitting areas, to large tear-downs, we design and construct kitchens that look great and function even better. We take everything into consideration; from lighting to flooring, from custom cabinets to granite counter tops, everything is specifically defined in your kitchen design. Even components such as appliances, windows, sinks and fixtures, are considered carefully in the overall design and combine to make or brake your dream kitchen. When completed, you will not believe how you ever functioned without it. Call 203K Remodeling today and let us show you how you can have the kitchen of your dreams constructed in your Chicago area home; done on time and on budget. Call us today to discuss your 203K remodeling needs with people have mastered the 203K remodeling process in the Chicago area.
From Functional to Luxurious - Kitchen Design by 203K Remodeling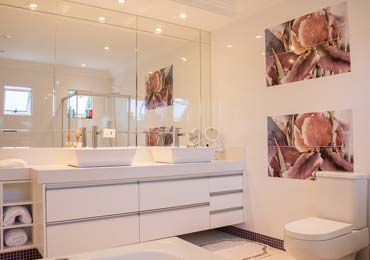 Many home buyers in Chicago and suburbs will spend more time in their kitchen than any other room in their homes. That is why the kitchen and the bathroom are the most renovated room in the house, mush more than bedrooms. These rooms have to be warm and inviting for any home owner to truly call a house a home. These rooms also need to work with the spaces around it to be practical and functional. As many home owners will attest, you don't want to do major remodeling after you move in. The challenge of designing such a kitchen is identifying what each family wants in terms of functionality, usability and attractiveness. All of these things can be achieved with good design. Our ability to listen to your needs and wishes, along with our construction know-how, will help create that design you are looking for in your new kitchen. With the help of our kitchen remodeling contractors you can be sure that every detail of your kitchen design will be addressed in order to take all of the stress out of your kitchen remodel for you and your family.
Kitchen Design
Only you know what you don't like about your existing kitchen and so we want to hear what you have to say. What would your dream kitchen in your home look like, how it will function, and how are you going to use it, and then we can go from there. The right kitchen remodel will transform your old cluttered and dirty kitchen into a space that feels warm, organized and beautiful, and it must work with the spaces around it.
The best way to assure yourself that you get what you are looking for in your kitchen remodel is to hire a professional, experienced kitchen remodeling General Contractor. Creating your new kitchen design will be a pleasant experience with 203K Remodeling leading the team.
Kitchen Cabinet Design
New kitchen cabinets will define the look of your kitchen for years to come. With the help of 203K Remodeling and our design team, this decision will become a fun and exciting process. We offer a wide variety of cabinetry that is sure to appeal to any style preference or budget. In addition to the look of your new cabinets, the overall functionality and organization of your kitchen will also be addressed during the design process. We will assist you with the door style and finish as well as the planning of storage space and overall kitchen design that will soon turn your dream kitchen in to a reality.
Kitchen Countertops
The kitchen countertop is often the centerpiece of the design of a new kitchen. Everything else is usually chosen to compliment the countertop you have chosen. Whether you want Corian, Silestone, Granite, or something else, our design team will assist you with the countertop design so that it will be the centerpiece of your kitchen for years to come.
Kitchen Backsplash
Rather than just running the countertop a few inches up the wall and calling that your backsplash, consider covering the entire open space between your countertop and the bottom of your wall cabinets with a glass tile, or maybe even consider using the tile around the entire kitchen. The backsplash should be used as a design element. A well designed and colorful backsplash can help draw your eye through the entire room. Explore your options; there are the standard square tiles but there are also rectangular shaped tiles, subway tiles, or various glass tiles to consider when weighing your options. With so many options there is no doubt we can find something that will match your style and personality.

Kitchen Lighting
Having a well-lit kitchen is a must when you are designing your new kitchen. Pendant lighting can provide direct lighting over islands or peninsula. Undercabinet lighting is a great accent light for working on the countertops and also doubles as a great mood lighting option. Overhead lighting is a must to completely illuminate the entire kitchen area for preparation and cooking. You may also want to put some of the lighting on dimmers to help create the exact lighting options you are looking for.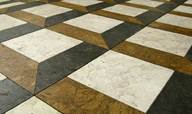 Kitchen Flooring
There are many traditional flooring options to choose from. There is more than the standard laminate, tile or vinyl that has been installed in the past. Nowadays there are such things as wood, marble or terra cotta floors that can add a rich element to your kitchen design. There are also many different shapes and designs of tile flooring that can be used or maybe you want to look at using something that is more eco-friendly such as Bamboo. Typical choices include:
Stone or tile is a great choice for hi-traffic areas.

Limestone is a natural stone that offers that rustic look.

Cork is a very durable and popular material available in a many different colors.

Wood is very popular in today's kitchens since it looks great and feels warm underfoot.