Complete Bathroom Remodeling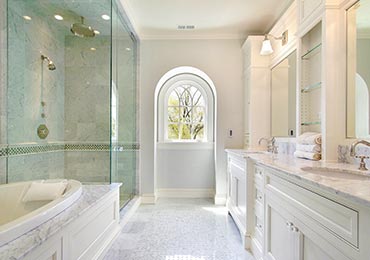 The bathroom is the room where most people begin and end their day. Whether it is a hot bath, a long shower or just brushing your teeth, wouldn't it be nice to have the oasis you always wanted? We can help you with that. There are many things to consider when determining how your bathroom should look, feel and function regardless of whether it is a Powder Room, a Hall Bathroom or your Master Bath. All of these rooms need to look, feel and function properly while showing your personality in their newly completed designs.
Bathroom Flooring
There are many different options available in flooring today. Whether it is ceramic, marble, porcelain, or any other flooring material, the size, color, style, and finish will significantly define the look of your new space. 203K Remodel and our design team can help you make these decisions easier by helping you understand the pros and cons of each material you are considering. One of the things that you don't want to forget about is the option of including Floor Heating in your bathroom flooring. Stepping into a warm bathroom on a cold winter morning is a great way to start your day. Warming systems will instantly add distinctive warmth and luxury to your bathroom remodel project.
Bathtubs and Showers
Choosing a tub is not as simple as you might think. Although choosing the color is one of things you must do during this remodeling process, there are other decisions that are much more important, such as: the size of the bathtub, the material it is made of, the depth of the bathtub, the functionality of the bathtub and the overall design of the bathtub. When considering showers, nothing beats a frameless custom glass shower to set the mood. There are even times when you may need to consider additional features that might include those that are for the handicapped or elderly person who may be using that bathroom. Our design team will help guide you through this selection process by explaining the differences as well as their critical advantages and disadvantages of each choice.
Bathroom Cabinetry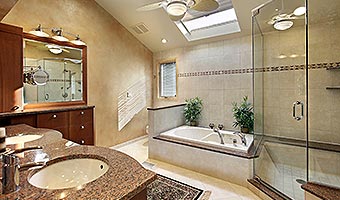 Remodeling your bathroom is one of the best improvement investments a homeowner can make. It will add comfort to your home while you are living there and add value to your home when the time comes to sell. Choosing the correct cabinetry for your bathroom will give you the feel you are looking for along with the functionality you require in your bathroom. There are many different materials and styles available for use in your bathroom cabinetry. Let us show you what is available and help you design that dream bathroom you have always wanted. We have remodeled dozens of bathrooms in the Chicago area and continue to add new designs and materials to our selection on a monthly basis. Call us for a free estimate and you can start enjoying your new bathroom in as little as eight weeks.
Bathroom Wall Tile
The wall tile used around your tub, around your shower, or even splashes along the walls will allow you to show your personality throughout your new bathroom. With the many textures, materials, patterns and designs available, let our remodeling and design team help direct you in the right direction. There is no need to have to make this decision alone.
Bathroom Lighting
Choosing the right bathroom lighting can make a substantial difference between a good bathroom remodel and a perfect bathroom remodel. Task lighting, accent lighting, and decorative lighting are the three important lighting design decision that have to be made in tandem when reaching more that perfect bathroom design. Sadly, in many cases we see, bathroom lighting was clearly an afterthought and the homeowner never quite got that feeling of perfection they sought. All of the remodeling design decision need to be balanced and coordinated in order to achieve that magazine-quality look in your finished bathroom. Let our specialists help you in deciding what lighting design is best for you.