Chicago Room Additions for 203K Construction Remodeling Loans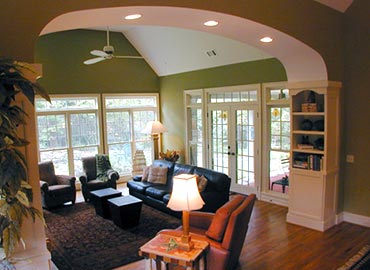 While it may have been the perfect home when you first moved in, over time your needs change and you may have now discovered that the perfect Chicago suburban home is not quite perfect anymore. You love the neighbors, the schools and the neighborhood, but your home just doesn't seem to function for you the way it used to; your home just can't seem to fit all of the items you accumulated throughout the years; or the kids just need the extra space to enjoy or be productive. A room addition might be the perfect option for your home. It might be the need for extra space, a new room with a defined purpose, or a 2nd floor addition for that growing family; whatever the need, we have the experience to ensure that your new space will both fulfill your needs as well as be a functional and pleasing space for you and your family for years to come. We've been adding rooms to Chicago homes for over 30 years and would love to show you what we could do for your home.
Why You Need the Right Contractor for a Room addition
When you decide to add a room, you will find that there are a myriad of things to consider. While it might be tempting to piece things together, there are numerous things that go into room additions. Because room additions have so many parts and pieces to consider, you will want the experienced eye and hand of a good contractor with room addition experience. Our remodeling teams have over 30 years of experience in general contracting, including virtually almost every type of room addition possible in a Chicago or suburban home. Utilizing professional carpenters and in-house work crews. we provide you the homeowner with the highest quality craftsmanship for your project, at the most competitive rates in the home remodeling industry.
Too often, consultations with remodeling contractors result in a confusing experiences which usually leave you wondering, "What did I just agree to"?. Our team and design process focuses on you the customer; making absolutely sure you understand what you'll be getting and how much everything will cost, before we start. Our free and no-obligation consultation will focus on your specific needs and expectations from a Chicago room addition. You'll want to completely understand how your new room addition will relate to the existing house, along with how we can get everything matching perfectly so that its not only aesthetically pleasing, but doesn't look like a room addition; but rather a part of the home. No matter what your personal reason is for a room addition; simple living space, additional bedroom, office, family room, dining room, bathroom, or whatever your need may be, Our 203K remodeling pros are one of the Chicago areas leading remodeling companies experienced in room additions and renovations. We'll get it done right, on time and on budget.
If you can dream your Room Addition, we can make it happen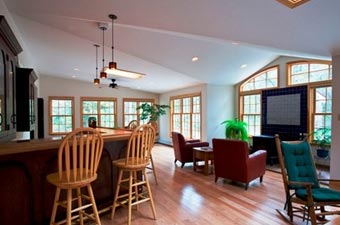 Most people think about different Room Addition or remodeling ideas almost as soon as they purchase a home and since you know better than anyone what you expect your Room Addition to look like it is only common sense that you be the one to describe it. We will give you the platform to completely explain your desires, wants and needs in your Room Addition while adding our suggestions and solutions for those items you may not have contemplated.
In the end, we will take your needs and incorporate them into a design that will not only work for you but function properly for you as well. All the while keeping you completely involved in the process. We offer:
Completely free consultations with no obligations.
No pressure to commit or buy a particular manufacturer.
Consultant's suggestions that center on your own room addition ideas and needs.
Provide references so you can see customers' experience first-hand
Free, customized design and quote and answers to as many question that you have.


Our Room Addition Consultation
You have the ideas in your head, or maybe you have even scratched them out on paper, but where do you go from there? The first step is to start with our free, no obligation consultation. We will take the time to sit down and listen to what your needs are for your new space and how you want to see them realized.

Our professional consultants will help you with any suggestions we may have to improve the function of your new addition while keeping your needs and desires in mind. We have no preconceived ideas of what your new addition is going to look like because we aren't tied to any specific manufacturer's products or pre-conceived room addition designs. Your new addition will be a custom-built design that fits you, your home, and your needs for the new addition.
The design and building process of your new Room addition is an extremely involved process. This is the type of project that requires a complete team effort. The team you choose needs to be a high quality, experienced team that will give you the best results. We have a combination of experience and high quality subcontractors that are capable of handling all your Room addition dreams without ever sacrificing the end product.
How do I pick the right Room Addition Contractor?
A room addition is an extremely involved project. Sure, we may seem to make it look easy but for everything you see being done on the jobsite, there are handfuls of things that are being done behind the scenes to keep the process running smoothly. A professional room addition contractor is the only way to assure you that this entire process will go as smoothly as possible. There is the plumbing, the electrical, the mechanical, the flooring and the things you don't see such as the paperwork or the problem solving that gets done on a daily basis. You want to hire the best team possible and you will be taking the first step by contacting us for your 203K remodel. Our team is ready to assist you in making your dream a reality.
Every room addition project is different, just like every customer is different, but our goals are always the same. We want our customers to be 100% satisfied at completion of the room addition. We accomplish this by focusing on your needs and desires, and then expertly designing and constructing your new space with our team of qualified room addition contractors, carpenters, and workers.